"
We are Different"
"We are Better"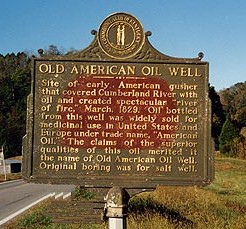 The Great American Oil Well

When one thinks of oil wells, particularly those of the "Oil Gusher" type, he usually thinks of Texas, Oklahoma, or the Gulf of Mexico. Actually, however, the first oil discovered in this country and maybe the first well of gusher type in the entire world was in Burkesville, Cumberland County, Kentucky. Here is the incredible story of that discovery.
When the settlers of Kentucky's salt supply ran out, they went to the known"licks", nearby salt springs, for re-supply. It was needed for two functions, to flavor food and, more importantly as a preservative to combat decay.
In the search for brine, a well was drilled on the Lemuel Stockton farm along the Little Renox Creek, near Burkesville, Kentucky. This well came to be known as the Great American Oil Well and was an early "gusher". Drilled by Col. Emerson to a depth of 171 feet using a spring pole rig, the well came in on March 11, 1829. The drill bit and rope were shot out of the hole and a solid stream of oil was thrown to top of the surrounding trees. Oil flowed into the Cumberland River and covered the surface of the river downstream for forty or fifty miles. The oil ignited, catching many miles of the river on fire. This also halted all riverboat traffic. It burned for 3 weeks. Between 1829 and 1860 the American Oil Well is estimated to have produced
50,000 barrels of oil. Much of that oil
ended up in Pittsburgh, Pennsylvania.
It was then sold as medicine or refined
into lamp oil.
________________________

Our oil field is represented by the #1
on this map. The Great American Oil
Well is represented by the #2. Our
field is only 12 miles from the Great
American Oil Well. There is a line of
producing wells between #1 and #2.
Our oil field contains a large,
currently untapped, oil resource.